Latest News
2017 Sep 22
What the critic's say about "Good Thing's Happen Slowly" and "Open Book"
---
2017 Aug 1
Check out Fred's feature in the September issue of DownBeat
---
2017 Jul 31
REVIEW: Fred Hersch Trio @ Village Vanguard
http://www.londonjazznews.com/2017/07/review-fred-hersch-trio-at-village.html
---
2017 Jun 30
2017 Downbeat Critic's Poll Results!
Fred has earned #2 in the Piano category & "Sunday Night at The Vanguard" earns # 3 Jazz Album of the Year and Fred Hersch Trio #4 Jazz Group of the Year!!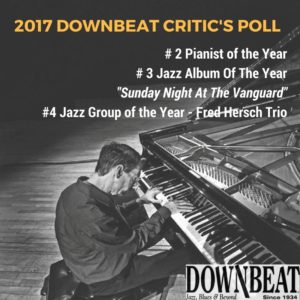 ---
2017 May 22
Great Trio Review in The New York Times
Read the New York Times review here.
---
Available Now
Mailing list
"...the most arrestingly innovative pianist in jazz over the last decade or so."
— Vanity Fair