2017 Dec 19
Congratulations to Fred on his 2018 Grammy nominations!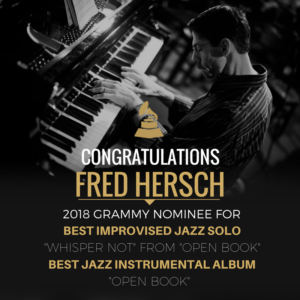 ---
2017 Nov 20
The 5 best memoirs of 2017 – The Washington Post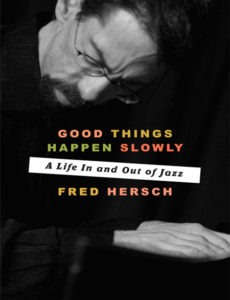 ---
2017 Sep 22
What the critic's say about "Good Thing's Happen Slowly" and "Open Book"
---
2017 Aug 1
Check out Fred's feature in the September issue of DownBeat
---
2017 Jul 31
REVIEW: Fred Hersch Trio @ Village Vanguard
http://www.londonjazznews.com/2017/07/review-fred-hersch-trio-at-village.html
---
2017 Jun 30
2017 Downbeat Critic's Poll Results!
Fred has earned #2 in the Piano category & "Sunday Night at The Vanguard" earns # 3 Jazz Album of the Year and Fred Hersch Trio #4 Jazz Group of the Year!!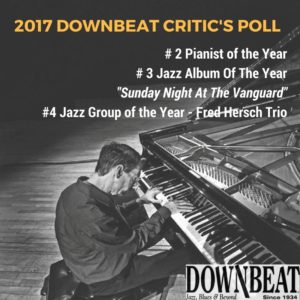 ---
2017 May 22
Great Trio Review in The New York Times
Read the New York Times review here.
---
2017 May 22
My Coma Dreams on DVD to benefit TAG
My jazz/theater piece My Coma Dreams is now available on DVD to benefit Treatment Action Group, a global health non-profit think tank that works to solve the problems of AIDS, Hepatitis-C and TB world-wide.
In addition to the 85-minute performance, there are extra behind-the-scenes interviews and feature with the participants.
World AIDS Day is December 1st and this is an important cause.  The holidays are coming, so this would make a great gift.  😉
---
2017 Apr 22
Four Jazz Journalism Award Nominations
Congrats to Fred who is nominated in several categories of this year's Jazz Journalists Association awards:
Jazz Musician Of The Year
Record Of The Year ("Sunday Night At The Vanguard")
Duo Or Trio Of The Year (Fred Hersch Trio)
Pianist Of The Year
http://www.jjajazzawards.org/p/2017-nominees.html
---
2016 Dec 31
Two 2017 Grammy Nominations
The Fred Hersch Trio: Sunday Night at the Vanguard has been nominated for two 2017 Grammy Awards!
Best Improvised Jazz Solo and Best Jazz Instrumental Album.
Grammys are on February 12th, 2017
---