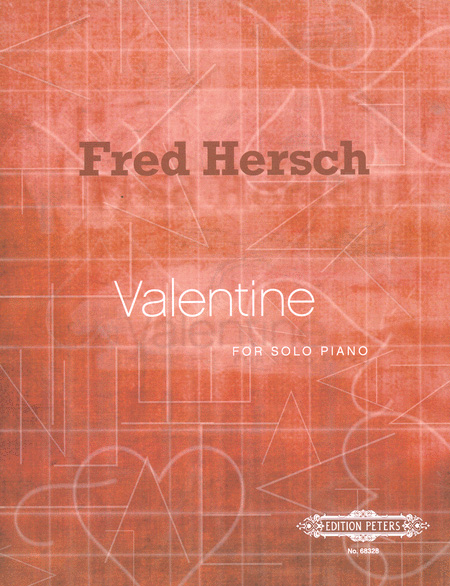 Valentine
Concert Work
Notes
"Valentine" was composed on Valentine's Day in 2001 at The MacDowell Colony in Peterborough, NH. At the time, I was writing jazz tunes with the aid of a kitchen timer, and this was completed in sketch form in about 20 minutes. I then fashioned a lead sheet and began playing the piece in concerts, usually as an encore. It received a Grammy nomination for Best Instrumental Composition in 2008. As I performed the piece, my interpretations became more consistent – even though there is a free improvisatory introduction and improvisation after the melody and before the recapitulation (both of them written out here in abbreviated form). I have had many requests from non-improvising pianists for a piano arrangement, so I created this arrangement in 2010.
This piece is to be played in a relaxed, leisurely manner with great affection and warmth." – Fred Hersch
A pianist and composer whose work has received nearly universal acclaim in a career spanning over 25 years, Fred Hersch is among the foremost creative musicians in the world today. Described as "a master who plays it his way" by The New York Times, Hersch has released more than twenty albums as a solo artist or bandleader, two of which were nominated for Grammy awards for Best Jazz Instrumental Performance.
He was the recipient of a 2003 Guggenheim Fellowship in composition and has received grants from both The National Endowment for the Arts and Meet the Composer as well as commissions from The Doris Duke Foundation and the Irwin S. Gilmore Foundation, among many others. He has also been awarded five composition residencies at The MacDowell Colony in Peterborough, NH, and a Rockefeller Fellowship for a residency at the Bellagio Center and Foundation in Lake Como, Italy.
He has collaborated with an extraordinary range of major artists in both the jazz and classical worlds, including Joe Henderson, Stan Getz, Charlie Haden, Gary Burton, Dawn Upshaw, Nadja Salerno-Sonnenberg, Jeffrey Kahane, Christopher O'Riley, Renee Fleming, and dozens of others